The photo above shows the UK and USA covers of my new book, Dangerous Women. But sharp-eyed readers will see that the book is coming out under my pseudonym, Hope Adams. I decided to publish under a pseudonym for many reasons. The first was: this book is not like any of my others. It's a historical thriller, which is based on real events: the voyage of the Rajah from London to Van Diemen's Land (Tasmania) in 1841.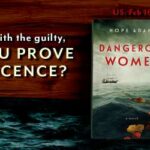 The second was, I've always fancied having a pseudonym. The idea of properly hiding my real identity was a non-starter. I'm on Twitter and Instagram and people know what I look like and a great deal about me from this website. I'm not someone who likes being solitary and hidden away so I decided I would follow the Ruth Rendell/ Barbara Vine example and have a different name for a different kind of books.
Thirdly, since 1967 when I married and took my husband's name, GERAS has been a problem to pronounce. Almost no one gets it right (hard G, rhymes exactly with TERRACE) which I don't mind, and I love the name, but it's going to be a relief to be Hope Adams at least some of the time. When I chose Hope, I was hoping that this story would be published, and I picked Adams because it's near the beginning of the alphabet. I also like the way it looks printed on the cover.
This book is very dear to my heart. I became obsessed with the Rajah Quilt from the moment I saw it in an exhibition at the V&A in 2009. It was made by women convicts on the ship, sailing to Van Diemen's Land, under the guidance of a Matron, Kezia Hayter, who was appointed by the Ladies' Committee, who worked for the welfare of women in prisons. Kezia was a cousin of George Hayter, a painter at the court of Queen Victoria. She was only 23 years old in 1841 and I became fascinated by the idea of these women, far from everything they were familiar with, making a thing of such great beauty. I resolved at once to write about it, but of course, life intervened and it is only now, 12 years later, that the story is being published.
I have tried to be as faithful as possible to the real events of the voyage. It's very well-documented. We have Kezia's diaries, the Captain's Log, the Surgeon Superintendent's log and the names, crimes and physical descriptions of all 180 convict women. I have used none of the convicts' names, because their descendants are still alive and well in Australia and especially Tasmania. Also, because this is a novel and not a history book, I have added a thriller element to my story, a ticking clock: will whoever stabbed one of the women be discovered and brought to justice before the ship docks in Hobart? Most of my characters and what happens on board the Rajah in the book are my invention. In real life, this was a very peaceful and uneventful voyage with very little illness and only one death from natural causes. But Dangerous Women is a novel and my ambition is that all Adèle Geras's readers will enjoy it. It's published in hardback in the UK on March 4th, 2021 by Michael Joseph and on February 16th, 2021 by Berkley in the USA. Hope Adams is very excited to be making her début.